LCAM Functional Imaging (annual)
Title: Functional Imaging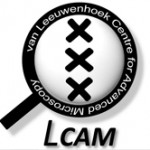 Date: 9-18 October 2023 (annual)
Location: FNWI, AMC & NKI
Contact: Mark Hink
Previous editions: 2018-2019 & 2021-2022

Introduction
The general aim of this course is to get hands-on experience and theoretical background in performing state-of-the-art advanced microscopy applied to cell biology. Due to the revolution in genetic encoded labeling (GFPs, switchable probes, FlAsH and AGT-tagging, etc) and the revolution in advanced (light) microscopy (confocal, super-resolution, FRET, dynamics etc) it is now not only possible to image the location of fluorescently labeled molecules but with the functional imaging techniques one can quantify the dynamics of molecular processes inside cells with unprecedented resolution, speed and accuracy. Because the application of advanced microscopy is essential for modern research in cell biology, this course provides training in the diverse modes of advanced microscopy. The microscope setups on which the training is provided are part of the van Leeuwenhoek Centre for Advanced Microscopy (LCAM) in Amsterdam, in which the research groups of Molecular Cytology (Swammerdam Institute for Life Sciences, UvA), of Cell Biology and Histology of the University Medical Center Amsterdam (UMCA) and the Cellular Biophysics Group, Dept of Cell Biology Netherlands Cancer Institute (NKI) .

Course content:
This 8 day course is an intermediate level course for PhD students, postdocs and technicians in biology and biomedical science who already have experience with widefield and/or confocal fluorescence microscopy but want to extend their knowledge with the functional imaging techniques. After this course, participants will understand the principles of these methods and their limitations. In this course we will focus on functional imaging technologies that can be used in biology such as FRET, FLIM, FRAP, FCS & super-resolution microscopy. Furthermore, participants will be introduced to the latest developments in fluorescent probes, sample preparation, data-analysis and data statistics.
The course consists of theoretical lectures & tutorials (~50%) and hands-on experiments (~50%) at the microscope, including an image analysis session. This course runs in parallel with the 4 weeks Advanced Microscopy course for UvA master students. The teaching staff consists of experts in the field from the van Leeuwenhoek Centre of Advanced Microscopy. Two special sessions will be dedicated to discuss each participant's specific microscopy project & issues and data-analysis questions.
Program:
| | |
| --- | --- |
| Mon Oct 9th | Fluorescence microscopy & probes |
| | Fluorescence Resonance Energy Transfer (FRET) microscopy |
| Tue Oct 10th | Filter and spectral FRET |
| Wed Oct 11th | Super-resolution microscopy (practical focused at STED) |
| Thu Oct 12th | Fluorescence Recovery After Photobleaching (FRAP), fluorescence loss in photobleaching (FLIP) & photoactivation microscopy |
| Fri Oct 13th | Project discussion session with each participant |
| | |
| Weekend | No course elements |
| Mon Oct 16th | Fluorescence Lifetime Imaging Microscopy (FLIM) |
| Tue Oct 17th | Fluorescence Correlation Spectroscopy (FCS) |
| Wed Oct 18th | Image processing and statistics for microscopy data |
| | Customised data analysis session |
Requirements: Since this is not a basic but intermediate level course the participants should have some experience with widefield and/or confocal microscopy and be familiar with the following theory and terms:

– microscopy:
image formation by a lens/ magnification / Numerical Aperture / phase contrast/ fluorescence / filter cube
/ pinhole / scanning vs camera imaging / confocal vs widefield microscopy
– detectors:
PMT / CCD camera
– images & data:
pixels / 8-bit, 12-bit/RGB / LUT / brightness / contrast
– image analysis:
basic experience with image analysis using Image J, Imaris or similar.
Date: Total 8 working days Mon 9 – Wed 18 October 2023 (excluding the weekend)
Participants: Minimum 4, Maximum 8 PhD students, technicians, postdocs & microscope facility staff.
Level: Experienced microscopist
Costs: 475 Euro. Besides full course attendance, the fee includes course materials and use of the microscopes. Attendees will be responsible for their own travel, lodging and meals.
Application: The deadline for applications was Sept 17th thus has been closed. At Sep 19th everyone will be notified if the course can take place and who has been selected to participate.
Selection criteria: Experience and motivation, to be included in the application form.
Organiser & info: LCAM, Mark Hink (m.a.hink@uva.nl)